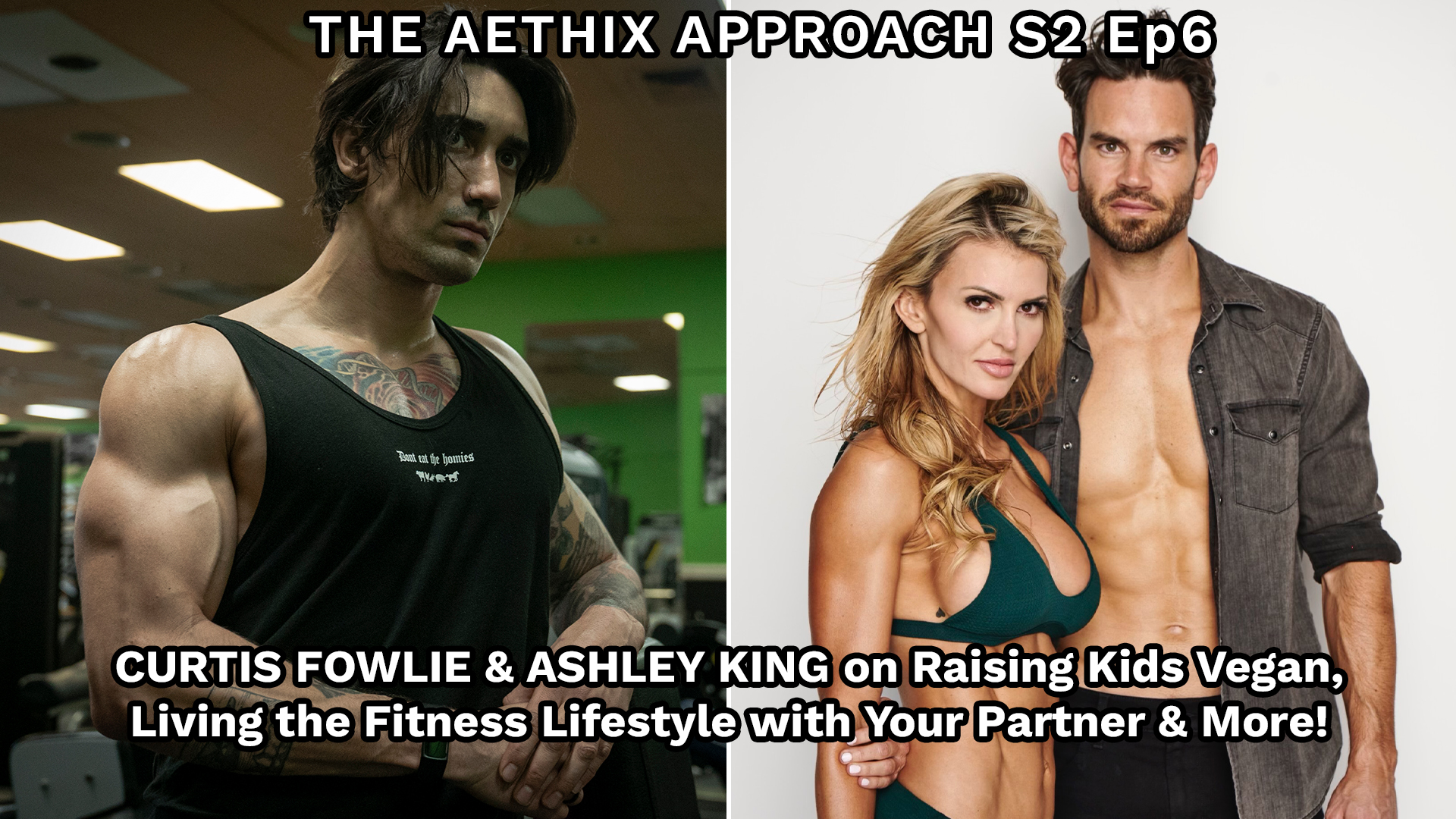 In this episode, I'm joined by vegan fitness super couple, Curtis Fowlie and @ashleykingfitness .

Outside of having to constantly dodge unsolicited attempts to contract them as billboard models for vegan beachwear brands, Curtis and Ashley both balance a lifestyle of working their respective day jobs, serious lifting and cardio, eating intelligently for their goals and raising a family of three boys.

I have the privilege of coaching both of these amazing humans currently and I'm constantly impressed by how they manage their busy schedules so diligently both together and individually. I thought it'd be super interesting for others to hear about the in's and out's of just how a fit, healthy and busy vegan couple live their life and see what take-away's we can glean that can apply to YOUR personal life as well whether you have a family of your own or not!

We get into all the details about how they meal plan together, how they motivate each other to get to the gym or eat for their goals, how they raise their kids and what they all eat, how they balance work and fitness and much more!

It was such a blast having these two on so I hope you enjoy it as much as I did and thank you again to Curtis and Ashley for coming on. Curtis doesn't use social media much but Ashley can be found at AshleyKingFitness on Instagram – go show her some love. Thank you for listening and without further ado, on with the show!



TIMESTAMPS:
00:00 – Intro to Podcast
00:45 – Intro to Curtis & Ashley
2:00 – Podcast episode start
2:30 – Quick intro to Curtis & Ashley
5:30 – Working with a coach
8:00 – Difference between eating plant based and standard American diet
10:45 – Who went vegan first and why?
15:30 – Raising kids vegan? Mentality on plant based eating
20:30 – Eating out on a plant based diet and traveling
23:30 – Convenient vegan protein options
26:45 – Traveling with meal prep, protein powders and other snacks
28:30 – Favorite meals, the importance of healthy carbs, balancing junk food and eating intelligently for body composition goals
34:45 – Benefits of incorporating "cheat" meals/days
36:30 – Supporting fitness/lifestyle goals with your partner
40:00 – What makes a good couple?
42:30 – Do their kids want/choose to eat vegan?
46:30 – What differences do their kids experience eating plant based?
50:15 – Inheriting traits from parents, body dysmorphia
54:30 – Aging and improving – feeling great in your 30's, 40's and beyond
1:01:30 – Building confidence through fitness and strength
1:04:00 – Hire a trainer to get you into the gym at first for accountability
1:06:15 – Motivated by others succeeding and being your own worst critic
1:10:45 – Striving to progress but appreciating the progress you already made
1:13:15 – Sharing highlights on social media
1:15:45 – Suggestions for going vegan as a family or individual
1:17:30 – Suggestions for committing to a fit lifestyle
1:20:15 – Where can Curtis and Ashley be found on social media?
1:22:45 – Episode outro